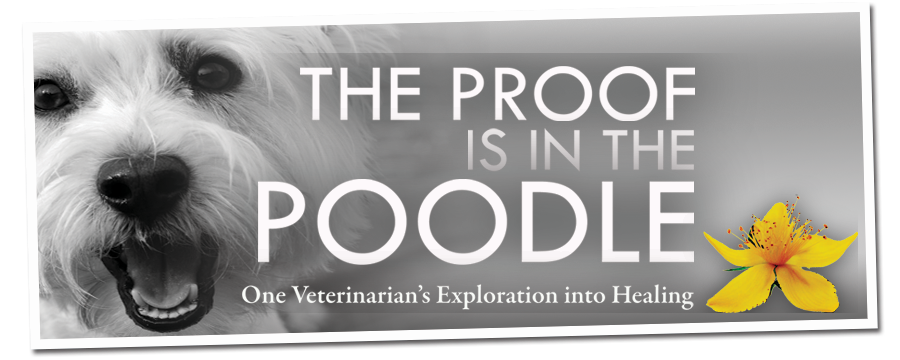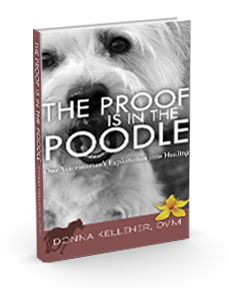 In her youth, Donna Kelleher, DVM, spent her Saturday mornings picking stones from horses' hooves and learning about plants. While digging through the earth and soaking medicinal leaves, the lessons from her teacher began taking root. "Roasted dandelion is the best medicine," said Iris, the neighborhood healer, before administering a straw-yellow tea to her cat, Tinkerbelle.
Since those Saturday morning lessons in nature, Kelleher has spent nearly two decades exploring what it means to find true healing, combining her conventional veterinary training with holistic treatments. What she's learned along the way is that animals need inspiration to make choices; as these stories prove, the resiliency of these pets have shaped her life as much as her treatments have shaped theirs.
A reminder of the physical, emotional, and spiritual strength in us all, The Proof Is in the Poodle embodies the restorative power of hope.
"Donna Kelleher, DVM, is changing the way we practice veterinary medicine, just as Andrew Weil, MD, has revolutionized human health care."
—Brenda Peterson, author of
Build Me an Ark: A Life with Animals
"Donna Kelleher is not only a gifted, talented, and compassionate veterinarian, her gifts also spill over into her sensitive writing."
—Allen M. Schoen, DVM, author of
Kindred Spirits: How the Remarkable Bond between Humans and Animals Can Change the Way We Live
"This memoir of the life-path taken by one veterinarian exploring the arts and philosophies of healing is one of inspiring re-discovery and fulfillment: a synthesis of veterinary science and conventional medicine through the alchemy of empathy and compassion, opening the way for an integrative approach to the recovery of health and the maintenance and celebration of animal well-being."
—Dr. Michael W. Fox, veterinarian, "Animal Doctor" syndicated newspaper columnist and author of Healing Animals & the Vision of One Health
Excerpts
From "Growing Up with Fur":
The bedraggled little poodle sat squarely at my feet, awaiting his fate and panting nervously when our bossy tabby, Tigger, strutted towards him sideways, hair follicles plugged up in attack mode. The hairless, scruffy dog who I later named Sampson when no one responded to our Found—Bald Dog signs, was fifteen pounds tops, fragile and mild-mannered. He wasn't the first dog I'd brought home, not even the first bald one, and yet there was something special about him and his soft spirit. He belonged with us. And that was that. A resigned hush was my mom's final response, so I knew I could keep him. Cat or dog, rat or hamster, it didn't matter. Each hard-won victory ended up in the bathtub, my way of celebrating. Read more →
From "The Terrier with Attitude":
A cold wet nose woke me the day after my procedure. As I groggily opened my eyes, I saw a scurry of a dog shadow, like a slick black sea lion, popping up from an ocean of blankets. One by one, Smudge brought me a parade of toys, her generous offering of alms. Once she surmised I was not interested, she grabbed her favorites, gripping them between her jaws and dropping them delicately on my head: a fuzzy snowman, a Tyrannosaurus head, a green caterpillar and an octopus's left tentacle. Read more →
From "A Sense of Direction":
One summer afternoon, as fog filtered into our rich, sweet forest of red cedar, I decided to ride my ex-racehorse, Charlie, up Sumas Mountain behind our yurt. If the mountain was located back east, people would consider it formidable, but around here, it amounted to little more than a foothill with a complicated crisscrossing of old logging roads. Had Jeff been on the scene with his trusty compass and uncanny pigeon-like knack for finding home, things would have been safer. But as it was, only Smudge accompanied us; I'd given in to her shrill protests at being left behind. Read more →
From "Connecting with a Horse":
Attempting to see the world through a horse's eyes, I realized that sitting motionless in one place might be considered predatory behavior, a tiger patiently stalking its prey. So I gradually stood and began wandering in small circles, looking up at the clouds, listening to the birds and creating a peaceful place inside myself in which I did not expect anything from him. I relaxed my body and dropped my shoulders to appear smaller. I focused on my breathing, concentrating on long, slow, deep breaths, a moving meditation. When Tino took one step towards me, I quietly said, "Good boy," establishing eye contact only when he looked up at me. And if he retreated a step, I would retreat too, gently matching his energy. Read more →
From "A Dog's Choice":
Once again, our list of options was limited, and I realized that in order to help Jasper, I needed to look at his illness in a different way. I began to think about Tino and his path to recovery. Just as I had to move from the old-school training methods to a more holistic training approach, I now had to shift from concentrating on Jasper's tumors to addressing his overall wellbeing; in both cases, I was moving from a focus on the negative to a focus on the positive. At that point, it seemed that Wendy had read my mind and she came up with a better idea. Read more →
In an effort to support environmentally responsible and sustainable printing practices, The Proof is in the Poodle is printed on Rolland Enviro100, a 100% post-consumer fiber paper that is FSC certified, deinked, processed chlorine-free, and manufactured with renewable biogas energy. It is acid-free and EcoLogo certified. Contact Tony Crouch at [email protected] or www.integratedbook.com for environmental book printing options.